Instructors and Legacy/Leadership
Karen Fresh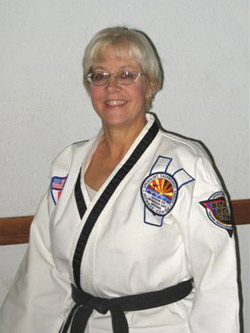 A native of Madison, Wisconsin, Karen lived there until December of 1972 when she graduated from the University of Wisconsin in Elementary Education with a minor in mathematics. She married her husband Mark in December of 1973 and has three sons, eight daughters and six granddaughters and three grandsons. She taught outside the home as well as homeschooling her eleven children (plus a friend's son and a nephew).
She spent some years in the Delaware and Pennsylvania area before moving to northeast Ohio and eventually to Lake Havasu City in June of 1985. Her parents had moved here in August of 1972 and treasuring family, she decided to join them.
Karen joined her sons at Taekwondo in January of 1995 at Spradlin's Taekwondo. She was joined by her daughters and eventually by her husband. (She received her brown belt the day before her eleventh child was born.)
She began instructing in 1999 and received her Certified Instructor status in October of 2003. (She has since taken classes and recertified through September of 2011.) Besides teaching at Mr. Spradlin's school, she has also taught Taekwondo (and art) for the Chemhuevi Tribe at Havasu Landing as well as with the Leisure Studies Department and College for Kids at MCC (fourteen years).
Karen is also proud to have attained her fourth degree black belt in July of 2003 having tested in Orlando at Fall Nationals, Las Vegas at Spring Nationals and in Phoenix in the course of attaining this belt level.
She has also enjoyed attending ATA Region 118 camp for thirteen of its fifteen years and earning "Most Helpful" awards for three of those years and high rank student two of those years (almost 200 campers each year). The past three years she taught Tai Chi at camp and various other classes. She has also been nominated as Region 118 Student of the Year.
Karen enjoys learning new things and has taken Protech weapons classes with the ATA, including Ssahng Nat, Gum Do, Oh Sung Do, Double Ssahng Jeol Bahng, Windstaff, Jahng Bahng. And to keep herself challenged, she has branched out into Tai Chi for the past four years and  has done Krav Maga.
A personal Taekwondo goal is one day to be a "Master".
Asked why she has stayed with Taekwondo, Karen answers, "Because it's fun!"
Karen's other activities include Havasu Christian Home Educators where she helped to start the group 26 years ago and has been a past president; Aglow International, a Charismatic Christian organization, where she is treasurer of both the local and area groups and has been involved for over 30 years; an active member of Our Lady of the Lake (past Religious Education instructor and lector).
Her interests include travel, food, healthy living, math/logic puzzles, arts and crafts
Bill Mitchell

A California native, Bill grew up in San Diego, where, at 17 began Kenpo Karate with Brian Adams & Parker Linekin. This began his journey into several different styles of martial arts: karate, Shito-ryu & Goju-ryu with Minobu Miki; Hsing I Chuan with Mike Patterson; and Rakkan Kenpo with Harley Regan.

Bill attended college in San Diego and has two master degrees: counseling psychology and educational psychology. In 1991 Bill married his wife Cherie, moved to Lake Arrowhead, CAand started their family of 5 children: Bethany, Breanna, Billy, Brynmary and Buck.In LakeArrowhead Bill's children also became interested in Karate and were introduced to Kenpo Karate at Jeff Speakman's studio with lessons from Gavin Majors.
Bill and his family moved to Lake Havasu in 2003 after Bill was asked to start a mental health clinic for the Apple Valley High Desert SELPA in the Needles School District. "I brought my family out to Lake Havasu to visit and see if they were willing to relocate. We all fell in love with the city."In June of 2005 Bill and family began Taekwondo at the Lake Havasu Black Belt Academy from Anita and Scott Brown.

Bill became an instructor trainee in 2008 after Karen Fresh took over the academy following Anita Brown's death. When asked what he likes most about Taekwondo Bill said, "I enjoy the sparring. It's like a chess match where you have an opportunity to apply all the forms and techniques you've learned and to have your skills sharpened by each match. I also enjoy watching the students progress not only in their skills but also in their character." I believe Karen Fresh has been a great contribution to the studio by integrating Christian character building into Taekwondo, which also emphasizes character building.As a Psychologist, I have spent my professional career helping people deal with the problems that result from a lack of character and I am proud to be a part of a school that honors Christ as the central key to that development.My goal for Taekwondo is to be part of an organization that through the discipline of the martial arts builds the character, emotional stability and the physical prowess to face the challenges of life and be unafraid and to have the strength to make a difference in this world because they know the Lord Jesus Christ and have the character to "fight the good fight." Bill became a Certified Trainer in February 2010.
Bill and his family are also involved in Civil Air Patrol where he has served as the Cadet Commander. Enjoying the out doors, Bill has worked as a wilderness & ropes course instructor for outdoor transformational programs for both adults and youth.As a Christian, Bill has been a deacon, Sunday School Teacher and, with his wife Cherie, also helps direct an AWANA camp for youth each summer as a reward for learning Bible verses.
Mark Fresh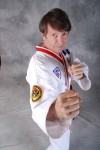 A native of Akron, Ohio, Mark lived there until September of 1970 when he transferred from the University of Akron to the University of Wisconsin at Madison. Mark Graduated in June 1972 with a BA in Economics and a minor in German. In December of 1973 Mark married Karen with whom he has three sons, eight daughters and two granddaughters. Mark has mainly worked in the field of communications: advertising, sales, public relations and broadcasting.
Mark and Karen lived in the Wilmington, Delaware – Philadelphia, PA area before moving back to Northeast Ohio and eventually to Lake Havasu City in June of 1985, answering the pleas of maternal "grandparents." (Karen's parents had moved here in August, 1972.)
Usually the guy behind the video camera at TKD testing, awards and demonstrations, Mark realized that, unlike President's who receive honorary "Black Belts," he would have to "earn" his way so, in June 2003, joined classes for himself and to support Karen in her ambition of becoming a "Master" which meant her eventually becoming a school owner.
In August of 2005, Mark earned his First Degree Black Belt; in October 2006, his second degree. In December, 2008, he joined the Instructor Training Program. In February 2010, he advanced to certified trainer level.
"Taekwondo has improved my skills at memorizing sequences, improved my physical fitness and provided many satisfying moments on the floor for both forms and sparring."
In addition to stints in Christian Radio and Television, Mark has taught public school for five years, Community College Courses for eight years, and publishing for 4 years. He continues his "hobby" of video production.
He is now doing door-to-door sales for Suddenlink, a business that provides internet, television and telephone services.
Mark's other activities have included Havasu Christian Home Educators, Ushering at Our Lady of the Lake, campaigns for city and county office and Havasu Girl's Softball.
Other interests include filmography, chess, golf, playing the accordion and videography.
Alexandra Landoni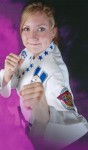 Alexandra is the 10th child and seventh daughter of Mark and Karen Fresh.  She was born here in Lake Havasu in April of 1994.  Alex has been blessed with beautiful dimples and thick wavy hair.  Her personality though is what is the most beautiful.  She shines as a wonderful friend and servant.   She thrives on organization so always keeps on task and is a joy as a student.  She also likes to keep the home organized and has a way of doing so without offending others.
Alex began her Taekwondo career at age 2 1/2.  She has always been quite coordinated and mature.  She was able to follow along from the sidelines and was so asked to join the class in September of 1996. She received her third degree black belt in February 2003.  She took a few years off and came back.  She became and Instructor Trainee in 2009.
Besides Taekwondo, Alex really enjoys playing softball and has been played league ball for many years and played on the Lake Havasu high school team for two years. She was also very involved in her church and was the president of the Youth Group and also a member of the parish council. She was also president of the home school youth group. She has helped with Vacation Bible School, College for Kids and was a camp counselor.Alex has been homeschooled through high school. She got an associate degree in Math at MCC and graduated business at Grand Canyon University the end of April 2014. At MCC she was outstanding Math student. She is a Math Interventionist at Telesis.
She was married in December 2014 and became a mother to Eisley Michelle in August of  2016.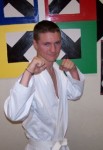 Kyle Landoni
Kyle was born in Lake Havasu City.  He  works in cleaning and restorative work and security at The Shops. Other than Taekwondo, Kyle likes music, all music!  He likes drumming (including his feet). He likes to fight and to throw frisbees.  He also likes spending money.
Kyle started hardcore Taekwondo about 4 years ago.  He started to be with his girlfriend (now wife), but now comes also because he just likes kicking butt and he excels at it.  He joined the Leadership program because he likes to teach.  He likes to hear himself talk, but also likes to see others doing well.
Kyle has great perseverance and always strives to be better than he is now.  He always has something to work on because he is not perfect – yet!  Kyle has a six-pack plus he is really cute (according to his wife). He became a father in August 2016.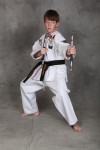 Jacob Billings
Jacob was born in September 1999 in Palm Springs, CA, but moved to Hines, Oregon when he was three weeks old.  He is in eleventh grade at Lake Havasu High School.  He is percussionist with the band.
He has been studying Taekwondo for six years and received is First Degree black belt in October 2011. He likes Taekwondo because "it centers me, helps me focus and concentrate on what I am doing".  He joined the Leadership team because other leaders recommended him and because he likes helping others become as centered as he is. "I hope to become a good instructor and eventually have my own school."
Jacob has many other interests including basketball, football, games, video games, Legos, music and piano.  He likes people; he likes helping; he likes to talk.  He has great instructor characteristics.
Clinton Campbell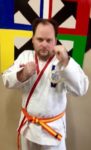 My name is Clinton Campbell, and I take great pleasure for the opportunity of completing this biography to express my love for the martial arts, and to share a little bit about myself with the hope of encouraging you to take the next step forward and discover the many benefits of joining the ATA, and studying the exciting art of Tykwondo. I was born in Southern California, and my family moved to Lake Havasu City when I was just twelve years old. At the start of the year my two young children, (ages 3 and 4) joined the Lake Havasu Black Belt Academy to participate in the little tigers program. I studied martial arts as a teenager under the private tutelage of Master Frank Shilosky, (6th Dan Shotokan) during which time I received advanced training in the use of the Okinawan Tonfa. I benefited greatly from the many character enhancing attributes gained with martial arts training. With all the excitement of being back in a Martial arts environment watching as my children trained; it didn't take long before I was ready to leave the sidelines, and start training again. It was at that time I began training full time here at the Black Belt Academy. My family and I have enjoyed every minute of our time at the local ATA academy. I am honored for my recent acceptance in the ATA's International leadership program, (Legacy) for the opportunity to earn my level one instructor certification. I retired after serving my community as a criminal investigator specializing in crimes against children. I am a graduate of Ashford, and the Thunderbird School of Business. I hold a Master of Science degree in organizational leadership. I also hold advanced certification as a child forensic interviewer. I'm currently employed with the Arizona's Children's Association, working as a Parent Resource Advisor providing the educational curriculum mandated by the State for those seeking licensure as foster or adoptive parents. I joined the legacy program to expand my knowledge of the unique leadership skills required to promote learning and confidence in martial arts students training within dynamic and high intensity training environments. When not training at the dojo, I enjoy spending time with my family, studying literature, and collecting historical law-enforcement memorabilia. I am a survivor of three bouts of cancer, and face long term medical issues resulting from the side effects of high dosage chemotherapy. I continue to greatly benefit from my training here at the Black Belt Academy, and I invite you to come down, and discover the many exciting opportunities training with the ATA has to offer. We look forward to meeting you soon!
Shihan Michael Ferreira